Sponsor!
We need local businesses to pitch in to help make the event possible. This is an opportunity to associate your company with local community leaders, technologists, graphic designers, non-profits, and people passionate about our community.
Register!
The Hackathon is coming up very fast.Please help us plan services and supplies by registering as soon as you can. Make sure to indicate which days (hopefully both!) you plan to attend.
Register for Hack for Western Mass today!
Changes This Year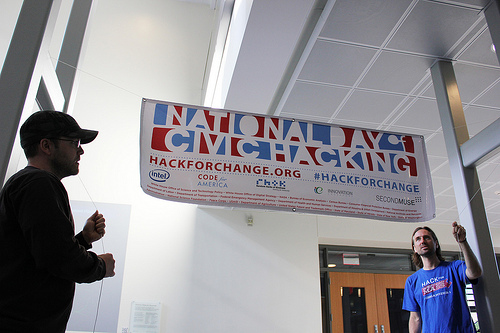 We started earlier this year to organize local teams in advance of the Hackathon. This helped our challenges to hit the ground running when the hackathon starts — and will provide greater continuity for community partners after the event. Team Organizers helped prepare for the Hackathon by recruiting a local team of hackers, reaching out to community partners in their area, and helping to prepare one (or more) challenges to bring to the Hackathon.
Each challenge brought forward has a local Project Manager identified in advance, who is making sure that necessary data and context are brought to Hackathon to help the teams productive — and help ensure that community partners can use the completed work after the hackathon is over. We've made an explanatory slide deck: http://goo.gl/7jg4L2
Challenge teams will choose up Saturday Morning as they always have.  Project Managers will relinquish their roles and serve as either Product Owners (if the nonprofit representative cannot attend) or as team members.