by

BeckySweger

May 10, 2014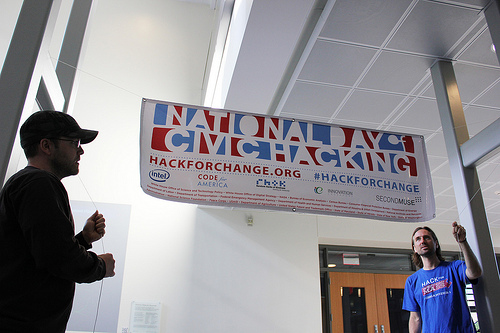 Photo by Molly McLeod
Hack for Western Mass 2014 – one of 120 events across the country for the National Day of Civic Hacking – is less than a month away (June 6-8). We're hacking in Holyoke this year, in the gorgeous Gateway City Arts building down by the canal.
There are challenges from the Food Bank of Western Massachusetts, the Literacy Project, the Community Foundation of Western Massachusetts, the Western Massachusetts Network to End Homelessness, and there are more to come.
We love kids, and we'll have plenty for them to do during the weekend, including a Youth Hackathon and their own challenge.
You don't need to a programmer to be a civic hacker. Programmers alone cannot make a hackathon.
And of course we'll feed all you great people who choose to spend the weekend helping local nonprofits. No pizza. Real food (thanks, sponsors!).
Register here, and we'll see you June 6-8.
---